Playboy condoms

The cult brand Playboy brings a sexy lifestyle very close to you. Ignite your passion with premium products from Playboy Condoms. German manufacturing systems and locally processed natural rubber as well as laboratory testing are the origin of the superior quality of Playboy condoms. Playboy condoms and lubricants are dermatologically tested for optimal skin tolerance, so they can be certified Vegan. Discover the perfect balance between a premium latex and an equally qualitative lubricant. In each box you are also offered pods of lubricants. So you are not only protected, but they also allow you to have maximum fun! Don't be basic, be legendary!
Our Selection
playboy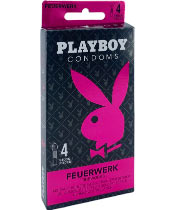 Box of 4 condoms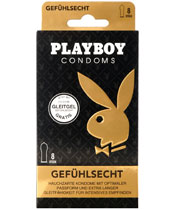 Box of 4/8/16 condoms
Playboy history:
Anyone is supposed to know that Playboy was Hugh Hefner's creation in 1953. Originally, it was an erotic magazine illustrated with nude women and containing entertaining articles related to sex and fun.
Its logo in the shape of a rabbit dressed in a bow tie chosen for its humorous sexual connotation is as famous as its creator.