Scented lubricants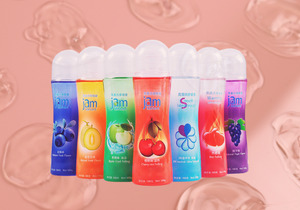 A greedy and fruity lubrication
Strawberry, passion, banana, bubblegum, mint, caramel ... all tastes are available in lubricants of big brands! To give your antics an irresistibly greedy taste, play now with perfumes, devour the body of your partner with scented lubricants ideally studied for oral caresses, or simply for more comfortable and fragrant reports.
When natural lubrication is not enough, to facilitate the reports and especially during anal penetrations, or when using condoms to reduce the risk of rupture, there are many opportunities to use lubricants, so why not not combine lubrication and pleasure?
Usage tips
It is advisable to use lubricating gel when vaginal lubrication is not sufficient, during anal intercourse, or simply with a condom to avoid the risk of rupture. Only water-based or silicone-based gels are 100% compatible with condoms.
The application is simple, before penetration, it is enough to deposit a nut of gel at the entrance of the orifice and a little on the penis. For better lubrication, do not hesitate to play with your fingers to dispense the lubricant in the anus or vagina. Scented lubricants are edible, you can play with your mouth and your tongue to lubricate the vagina or penis, your partner will be more satisfied! And if your partner likes the feeling of freshness, you can leave the pod or the bottle in a cool place and take it out at the last moment, or on the contrary you can warm the pod or the tube in your hands before applying it.
They tried and they liked
Our customers have tried and they loved.
? Elodie, Juicy ID : Every time it was the same problem, lack of vaginal lubrication, not terrible to have fun in bed. When I started using lubricants, my sex life changed dramatically. But sometimes, it's a bit restrictive, and not always very sexy to use. Also, I find more enjoyable scented lubricants because it introduces a little more humor in the reports, we play more, we often discover new perfume, it makes the situation not only easier to assume but in addition it brings a true more to our sex life. I make love with a smile! Why ID Juicy to passion? Because I love his taste and his perfume, it's stronger than me, I devour my boyfriend every time!
? Thierry, JoyDivision Aquaglide : An excellent lubricant, easy to use, that does not stick and lasts a long time. And this little taste of banana pleases me as much as my girlfriend, the top for a cuni and even more ...