Ultra-thin condoms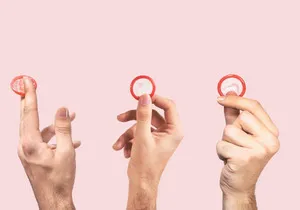 No more barrier to pleasure!
Do you think that a condom is a barrier to pleasure? Every time you put on a condom, do you feel like you are putting on a thick and soft plastic bag? During your antics, you do not feel the same feelings with a condom that without? So try the ultra-fine condoms right now! While the thickness of a conventional condom is between 70 and 90 microns, manufacturers have worked on the process of manufacturing condoms by improving the quality of latex to be able to achieve thinner condoms but just as resistant: less than 60 microns thick and up to 40 microns for the finest!
The benefits are many: finer, the condom is more flexible and therefore easier to put on, the thickness between the two bodies is also reduced, the condom allows more heat to pass between the two partners and therefore the sensations are intensified. Finally, as it is often the high-end of condoms, manufacturers add the latest innovations to their ultra-thin condoms: profiled shape, optimal lubrication, ... In return, ultra-thin condoms are often more expensive than the classic condoms. But who said, "When we love, we do not count"?
The opinion of our customers
Our customers have tried and they loved.
? Emmanuel, MANIX Infinite : A condom that knows how to be forgotten for a maximum pleasure to the most of the reality.
? Philippe, MANIX Contact : I only use Manix Contact with my boyfriend. They are very thin and very solid at the same time, they allow all types of antics, from the sweetest to the most active, without fail, without ever cracking.
? Benjamin, DUREX Love : There is 20% less latex but it does not crack so much! Frankly, you feel better about your partner.